>> Click here to jump straight to the best rated models on Amazon.com
---
Top Rated 4X4 RC Rock Crawler Under $50
Top Rated 2WD RC Truck Under $100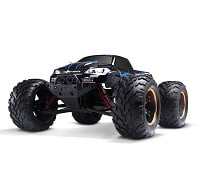 Fastest RC Truck Under $150
---
Redcat Racing Volcano EPX: Top Rated 1/10 Scale Electric RC Truck
Quick Specs:
Electric Brushed 27T 540 Motor, Four Wheel Drive, High Torque Servo

Polycarbonate Body, Aluminum Capped Oil Filled Shocks

Transmission Forward and Reverse ; 7.2v 2000mAh NiMh and Charger Included

2.4GHz Radio Included. Radio requires 8 AA Batteries (Not Included). Now includes Waterproof Electronics! (ESC, Servo, Receiver)

Kindly click on the image to view the Quick Start Video Guide on Amazon
---
10) Toys R' Us Fast Lane Wild Fire Vehicle (1:18 scale rc truck)
The Wild Fire Vehicle provides the user with a fantastic RC truck experience. With a 140 foot control range, the user will be able to enjoy a wide range of control space. 4-Wheel drive and full functionality make it easy to get the Wild Fire out of any difficult patch of terrain. Engine sounds and a 1:8 scale provide just the right amount of realism to enhance the Wild Fire ride.
The Wild Fire runs on a rechargeable battery that is included with the purchase of the truck. The Wild Fire truck boasts a suspension system designed to absorb shock to ensure that long falls don't deter the user's fun. A two hand sleek remote makes controlling the vehicle as easy as can be.
At under $100 dollars, which includes shipping, the Wild Fire is one of the best value RC trucks with respect to performance for the money, but some reviews definitely indicate you get a lot more bang for your buck by spending $10 more. There are also some really cool rc construction toys like Bobcats and front end loaders here.
---
9) Toy State Nikko RC Elite Trucks Ford F-150 Raptor Vehicle
This RC truck boasts the fact that it is modeled after one of the coolest vehicles on the market. For those not old enough to drive their favorite truck, this is the next best thing.
The Ford Raptor RC truck is fully licensed in its design of body style, controls, suspension, and sound effects making it look, feel and sound like an actual Ford Raptor. The truck is designed for great performance in both on and off road settings making it fun to use on any terrain.
The Nikko RC Ford Raptor holds a 4.5 star rating on Amazon and is consistent with other reviews. At a listing price of under $75 bucks with free two day shipping via prime, you can bet there will be a large number of orders this holiday season.
---
Just Added! – TOZO Battleaxe High Speed Electric RC Jeep Buggy
---
8) Distianert 9300 RC Car/Truck – 1:18 Scale – 4WD 2.4Ghz Remote Control – (comes with extra battery)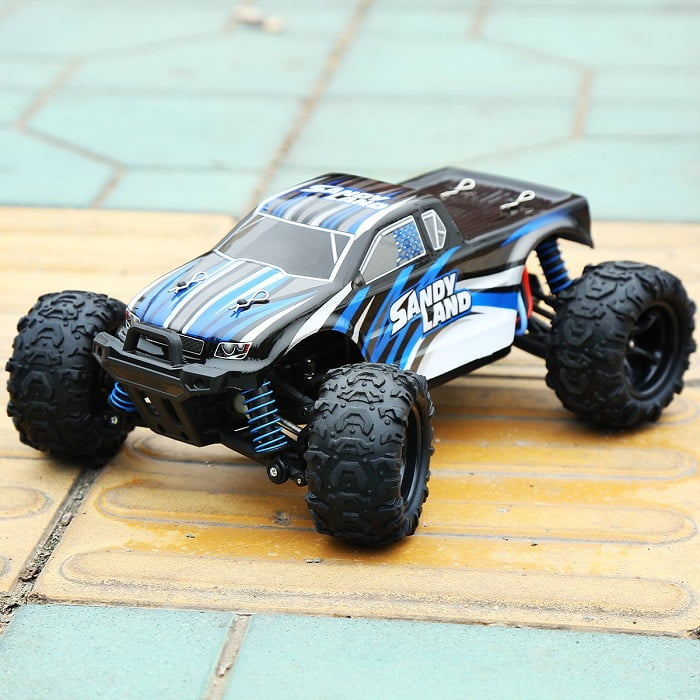 While the Distianert 9300 has a slightly higher price, but still manages to stay under that $100 dollar mark, it offers top of the line performance for those who want something guaranteed to last. Each of the wheels within this RC truck are supported by bouncing spring materials which will save the truck's functionality, within reason, after someone drives it off of a high surface. The wheels themselves are heavy duty in that they are able to ride over rough terrain at a high speed, making it a fun event for any venue. The Ditianert 9300 has a top speed capability of 30 mph, making it attractive to those who are looking for something that can burn rubber. The battery, at full charge, provides enough power to have continuous operation of the vehicle for about twenty minutes, and an extra battery is provided that the truck can still be used while the other battery is being recharged.
Quick Specs:
Powerful Speed: The Distianert 9300 Electric toy car designed with durable, strong and powerful components to provide you the realistic racing and off-road game experience. It has the speed of 30 MPH powered by most powerful mini sports toy car Motor. This will be a great mini off-road toy car specially made outdoors entertainment at the park, beach and camping activities.

Responsive Controls: This miniature off-road car designed with accurate and full control that can be easily drive by your hands. It has a strong turbine to provide stable performance on any terrain, grass landscape, sand and concrete ground.

Strong Shockproof Resistance: The four wheels consist of bouncing spring materials which give support to unexpected dropping and the unstable surface of the ground, make you enjoy the toy car for a longer period of time.

Heavy Duty Wheels: It has durable and well-designed tires spikes and wheels to provide high speed and stable running performance. It can be moved by the motor smoothly which is supported by bouncing spring materials to enhance performance.

Powered with Rechargeable 7.4V Batteries: Using the original battery on fully charged condition it will last up to 15-25 minutes on a non-stop operation, plus we include extra 1200mah Battery to extend playtime up to 20-30 minutes more.
---
7) Velocity Toys Cross Country Muddy SUV – 1:16 Scale RC Truck – Real Working Suspension
For those looking for an RC truck not in the pickup style, Velocity Toys has their Jeep/SUV style RC truck. This 1:16 scale RC truck is modeled after the type of vehicle you would take to the sand dunes or mountains for the weekend to take on an adrenaline rush. What makes this truck special is that it's front wheel alignment is adjustable in order to access control of the vehicle as you like it best. With front hinged suspensions, shock absorbers, and crash bumpers of both ends of the vehicle, the truck is prepped to endure the toughest of conditions. An exclusive mud-splatter paint job and detailed design n the interior makes this truck just as life-like as it is fun. Full functionality of acceleration and reverse combined with off road tires makes it possible to get out of any tough situation in Velocity Toy's Cross Country Muddy SUV. Velocity Toys includes both the 6v battery required for the truck and the AA batteries required for the remote. The Cross Country Muddy SUV is available in a bright red or green and priced at under $75 dollars, but doesn't always have free shipping.
Quick Specs:
Battery operated (Rechargeable), Full function (Go forward and backward, Turn left and right), 1:16 scale

Adjustable front wheel alignment, Front and rear hinged suspension, Spring shock absorbers, Front and rear crash bumpers

Custom mud splatter paint job all over, Extremely detailed from the interior to the exterior, Wheels with rubber off road tires

Requires 700mAh 6v battery to run (included), Remote control requires 2 AA batteries to run (included)

Approx. truck dimensions: 9.5 x 8 x 8 inches
---
6) AMOSTING S911 – Fast 35MPH – 1/12 Scale – 2.4Ghz Remote Control Monster Truck
The AMOSTING S911 is an RC truck is a high speed, durable, and powerful option for those looking for a monster truck style toy. The motor within the S911 is one of the biggest motors available within this class of RC vehicles. The remote will control the S911 up to 100 meters away, giving you a large range of available control. All-Terrain tires and suspension technology like no other truck make it one of the most durable RC trucks on the market.
Quick Specs:
Powerful GP brush 390 motor largest in class,top speed 33+MPH with included battery(Li-ion 9.6v 800mAh,10 minutes play time)

2.4Ghz radio system, remote control distance of 100 meters, realistic all terrain tires with foam inserts

IPX5 Waterproof Level: Not completely waterproof,but protects the vehicle itself from splashing water and waves in rainstorm or snow. Make sure you dry and clean the car timely to maximize the long-term performance

S-Truck suspension technology for superior handling and control

[Lifetime Technology Support & 90-Day Free Warranty]:90-Day free warranty to every original consumer, but man-made damage not included in the warranty
Another thing that the S911 has going for it is that it's body has a waterproof design. While the manufacturer wouldn't recommend driving in into a swimming pool, you can be sure in that you can use it if you want to drive your RC truck while there is a light rain outside like in these reviews. With the S911 topping speeds of 33 MPH, this RC truck gives a high speed driving experience. With shipping included, the S911 will run just under $100 bucks.
---
5) GP NextX S620 Remote Control RC Truck – 2.4 Ghz PRO Controller System – 1:16 Scale Size
Quick Specs:
2.4GHz NextX SYSTEM: Race Multiple Cars in the Same Area at the Same Time , Remote Control Range of 160 Feet (50m) , Full Function Controls Allow Vehicle to Go Forward and Backward, Turn Left and Right , Adjustable Front Wheel Alignment

OFF ROADING RACING FUN: Suitable for On Road Racing , Working Front Independent and Rear Hinged Suspension with Spring Shock Absorbers All Around , Racing Wheels with Premium, Semi-Pneumatic Rubber Tires , Lightweight Removable Hobby Grade Body

STEER LIKE A PRO: With a range of up to 160 feet and highly responsive steering and throttle, , Full Function Controls Allow Vehicle to Go Forward and Backward, Turn Left and Right , Adjustable Front Wheel Alignment ,

RECOMMENDED FOR AGES 8+ AND UP: 1:16 Scale Size , Ready to Run Straight Out the Box , Requires 4 AA Batteries to Run (not included) , Remote Requires 2 AA Batteries to Run (not included)

RELIABLE & FRIENDLY CUSTOMER SERVICE: NextX Team Ready to respond within 24 hours, 30-day money back guarantee, 12 month replacement warranty and lifetime support guarantee.
At under $50 including shipping, the GP NextX S620 is one of the best values within the RC car market. The NextX system includes a 2.4 GHz radio that allows you to race multiple cars at the same time within an area. The S620 includes front and rear suspension with spring shock absorbers which allows the truck to survive those hard falls. The wheels are semi-pneumatic rubber of racing wheels which allow for sufficient grip. The remote allows for high responsive control for up to 160 feet. Full direction functionality and front wheel alignment adjustability gives the user the ability to steer and control like a professional. At such a bargain price and with a 5 star average review on Amazon, the GP NextX S620 will be a hot item being opened on many birthdays and Christmas morning!
---
4) Lutema Blaze Truck 4CH Remote Control Truck
For those seeking an RC truck option at the lowest possible price point, the Lutema Blaze Truck offers just that. Ranging from under $20 – $30 dollars, the Lutema Blaze is very affordable, but it is worth noting that you do get what you pay for. Where as most of the RC trucks in this list are high quality machines that you can use wherever you want, the Lutema Blaze Truck is best used in a setting in which it will not be taking crash impact. This truck would be recommended for kids at a fairly young age that would be entertained by just driving it around. With over 300 reviews and an average of 3.5 stars on Amazon, the Lutema Blaze obviously holds some popularity among consumers. Most of the issues in the reviews deal with the lack of durability. So for those looking for just sheer value in relation to price opposed to performance, the Lutema Blaze might be for you.
Quick Specs:
By far the most stable remote control truck in the market for its compact size.

Full-function control and powerful performance

Comes equipped with shock absorbing tires and a real shock absorbing suspension.

Truck requires 4 AA Rechargeable Batteries (Included)
---
One of the most popular toys among kids these days, are RC excavators and digging toys. If you haven't seen them, I'd highly suggest you take a look, as they're the most sought after toys by children everywhere and make excellent birthday and Christmas gifts for a wide variety of ages. There are also a bunch of different types of rc construction toys here, if you happen to have a little boy or girl in your family that LOVES to play in the dirt!
---
3) KidiRace RC Rock Crawler – Off Road Race Car/Truck – 3 Powerful Motors – Four Wheel Drive – All Terrain
Quick Specs:
FAST & POWERFUL – 4 wheel drive, 3 powerful motors

ALL TERRAIN – with its heavy duty construction, 4 off road shocks and the heavy duty rubber tire the RC Truck will power through gravel, mud, rocks & soft sand

HIGH CAPACITY BATTERY – drives up 20 min. all batteries and wall adapter included

EASY TO CONTROL – trigger throttle with steering wheel transmitter. REALISTIC – working headlights and break lights
The KidiRace Rock Crawler is a great value, great performance option. With 4-wheel drive and 3 motors, the Rock Crawler faces no issue no matter the terrain. The Rock Crawler is described as heavy duty, with off road shocks and heavy duty tires to travel through dirt, gravel, sand, etc. The battery life allows for 20 minute continuous use. One specific quality that the Rock Crawler offers is that is has functional headlights and brake lights, making usage in dark areas possible. At under $40 bucks, the KidiRace Rock Crawler is one of the best values within the RC truck market. For more all terrain radio controlled vehicles, check out these bulldozer toys.
---
2) Blue Danchee Trail Hunter 1/12 Scale Remote Control Rock Crawler Off Road Truck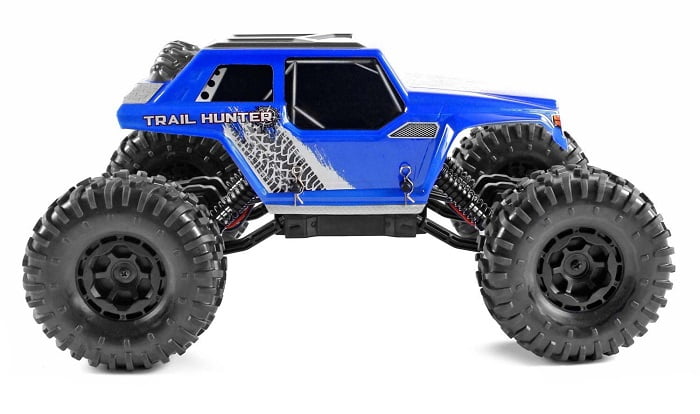 The Danchee Trail Hunter is a 1/12 scale RC truck that looks like something you would want to take through the woods every single weekend. With low gearing installed, Trail Hunter can navigate through and over any setting of brush, gravel, etc. The Trail Hunter boasts "Hill Braking" technology from Redcat, in which braking is automatically engaged when the user releases the acceleration. This setting can be turned off. The Hill braking is designed to assist the user in controlling the vehicle on steep hills. Trail Hunter is equipped with dual-motor that provide power enough to navigate the ruggedness of trails. Trail Hunter also boast 4-wheel drive which allows for better grip when the trails have been affected by the weather. A range of 170 feet and transmitter with multiple channel configurations allows for a party of up to 20 people to join in on the fun. Trail Hunter and its controller both run on AA batteries. At under $50 dollars, the Trail Hunter is one of the best values for RC trucks of 2016-2017.
Quick Specs:
Two motors and dual mode technology makes for excellent rock crawling

4 wheel drive with full articulating front and rear suspension

2.4GHz hobby Grade remote control lets up to 20 players drive their vehicles nearby at the same time

Requires 6AA batteries (not included) for vehicle and 4AA (not included) batteries for controller

Full function precise steering & throttle control with Hill braking mode or normal mode
---
1) Maisto R/C Rock Crawler Radio Control Vehicle
Quick Specs:
Two motors and low gearing make for rugged off-road action

Articulated front and rear suspension

6AA for the vehicle (Not included) and 2 AAA (Not included) for the controller

Tri-Channel Transmitter, Go off-road today

TPE tires for ultra grip
Maisto holds an incredibly low price for their Rock Crawler at an astounding under $30 price point, the low price does not prevent Mast's Rock Crawler from having some of the best features. With "articulated suspensions," dual-motors, and low gears, the Maisto is well prepped to be a high quality option at a low price. Suspensions in both the front and back of the Rock Crawler equips the vehicles to handle long drops for those that like to test their vehicle. The channel transmitter is programmed to enable three people to play within the same location without interfering with one another. With a small truck body and large TPE off road wheels, the Rock Crawler is light and therefore able to handle most of the shock that an RC truck would undergo. The Rock Crawler is available in red, green, and white with each color having their own specific design.
---